The Annual Canadian Premier International Education Awards (CPIEAs), which celebrate those who have an impact on international education, took place on the evening of September 22, 2016 in Ottawa, Ontario. Languages Canada was recognized specifically for its efforts to represent its 220 members who generate $1.5 billion in export revenue for the economy, for supporting Syrian refugees with 15,500 donated study weeks from members, and for showcasing Canada as the top destination for English and French language education.
Our Executive Director, Gonzalo Peralta, was joined by 110 international education industry leaders and delegates from Canada and around the world at the CPIEA Gala and was presented with this prestigious award. Mr. Peralta was recognized on behalf of Languages Canada in the Educational Association category. "Languages Canada and its members are contributing to the wellbeing of the world by helping people develop meaningful connections though language, and I'm very proud of the work we do to help students achieve their dreams," said Mr Peralta, adding, "I am very grateful to CPIEA and to Mr Aly Rajab for their work in honouring the accomplishments of those working in international education and for their generosity with disadvantaged youth."
These awards have been taking place yearly for the last four years to celebrate the people and organizations who strive to improve the quality of international education. Languages Canada is honored and proud to have been one of the recipients this year.
More information on the winners can be found on the CPIEA's website
here
.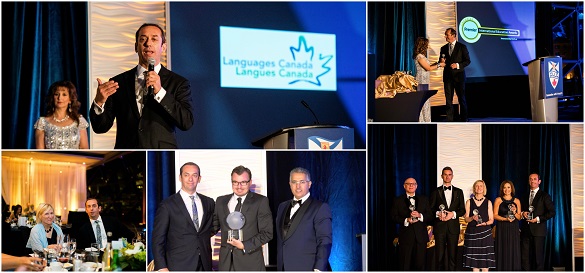 Starting from bottom left: Gonzalo Peralta with Dr. Roseann O'Reilly Runte, President and Vice Chancellor of Carleton University; Gonzalo Peralta with winner of 'small agency of the year' and Aly Rajab, CEO of CLLC and founder of CPIEA; Bert Vercamer from Sentio, Dr. Runte, Angy Vizuena from COICEC and Gonzalo Peralta.
ABOUT LANGUAGES CANADA
Languages Canada is Canada's national language education association representing more than 220 private and public members that offer accredited English and French programs. Overall, more than 134,000 students come to Canada every year to learn English and/or French. Language programs generated nearly $1.5 billion in 2015 in export revenue for the Canadian economy.
For media inquiries, please contact: