OTTAWA, June 29, 2016 – Languages Canada applauds Prime Minister Justin Trudeau's move to lift its visa requirements for travellers from Mexico as of Dec. 1, 2016. The Prime Minister announced the news following his bilateral talks with Mexican President Enrique Pena Nieto in Ottawa on Tuesday. Sharon Curl, President of Languages Canada, attended a dinner hosted by Prime Minister Justin Trudeau for the President of Mexico on Tuesday.
Lifting the visa requirement will strengthen ties between Canada and Mexico and will increase the flow of students between both countries. Central to this agreement, the Prime Minister welcomed education cooperation with Mexico in all aspects of international education. This partnership will enable international work-integrated learning opportunities for students from Canada and Mexico.
Mexico is an exciting emerging market for Canadian language programs. Among other strategic initiatives, representatives of Languages Canada attended initial strategic meetings in February with Technological Universities in Mexico. Languages Canada and its member programs met in Santiago de Querétaro to meet and develop partnerships with key educational agencies from Mexico.
"With student numbers from Mexico on the rise in recent years, Languages Canada applauds this decision and looks forward to collaborating further with educational partners to enhance student mobility between our two countries and support Mexico's internationalization efforts," says Gonzalo Peralta, Executive Director of Languages Canada.
In 2015, 5,140 Mexican students (holding a six months or more study permit) were in Canada, making Mexico the 10th largest source of international students for Canada. Currently, there are over 400 inter-institutional agreements between Canadian and Mexican higher education institutions.
"We're delighted to see the Prime Minister take the lead in fostering relationships with Mexico's educational partners. Enhancing student mobility between our two countries will only lead to a brighter future for young Canadians and Mexicans," remarks Ms. Curl.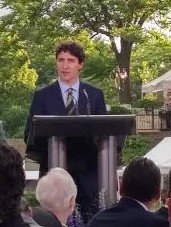 - 30 -
ABOUT LANGUAGES CANADA
Languages Canada is Canada's national language education association representing more than 225 private and public members that offer accredited English and French programs.
For media inquiries, please contact:
Sarah Snowdon
Communications Manager
ssnowdon@languagescanada.ca

Twitter: @LangCanada
Facebook: facebook.com/languagescanada
LinkedIn: linkedin.com/company/languages-canada
Website: languagescanada.ca