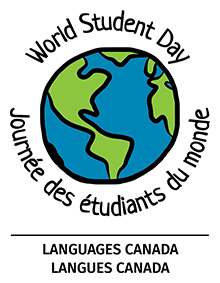 Dear members,
World Student Day will be changing for the 2020 season. After six years, Languages Canada will no longer be taking an active operational role, and instead the event will be managed by members. This may mean smaller events or no event in big cities. If your program is interested in continuing to celebrate World Student Day, we encourage you to do so and to coordinate with other member programs.
This decision reflects the increased need to prioritize other aspects of Languages Canada's work, both in Canada and overseas, while also returning to the original goal of World Student Day as a self-sufficient, member-driven event.
Changes for 2020:
Languages Canada will no longer centrally-manage individual city events. This will mostly affect members in Vancouver, Toronto, Ottawa and Montreal.
No set date. We suggest July as a preferred month, but acknowledge that some members would prefer another date.
Languages Canada will continue to provide:

Logos and images needed to promote the event to students
Insurance for multi-member events (min: 4 member programs for large cities)
Support with writing invitation letters for VIPs
Social media support on the day of your event
Presence of Languages Canada staff where possible.
If your city or institution is planning to continue with World Student Day in some form, please contact fborgal@languagescanada.ca.
Thank you to all members who participated in a World Student Day event in the past several years! We hope you enjoy this slideshow of some of the best moments from past events.