On August 20th, Languages Canada formalized a new partnership in Mexico, with the Consorcio de Universidades Mexicanas (Consortium of Mexican Universities/ CUMex) – an association comprised of 30 public, state universities across 29 Mexican states which include more than 1,000,000 students and 150,000 teachers.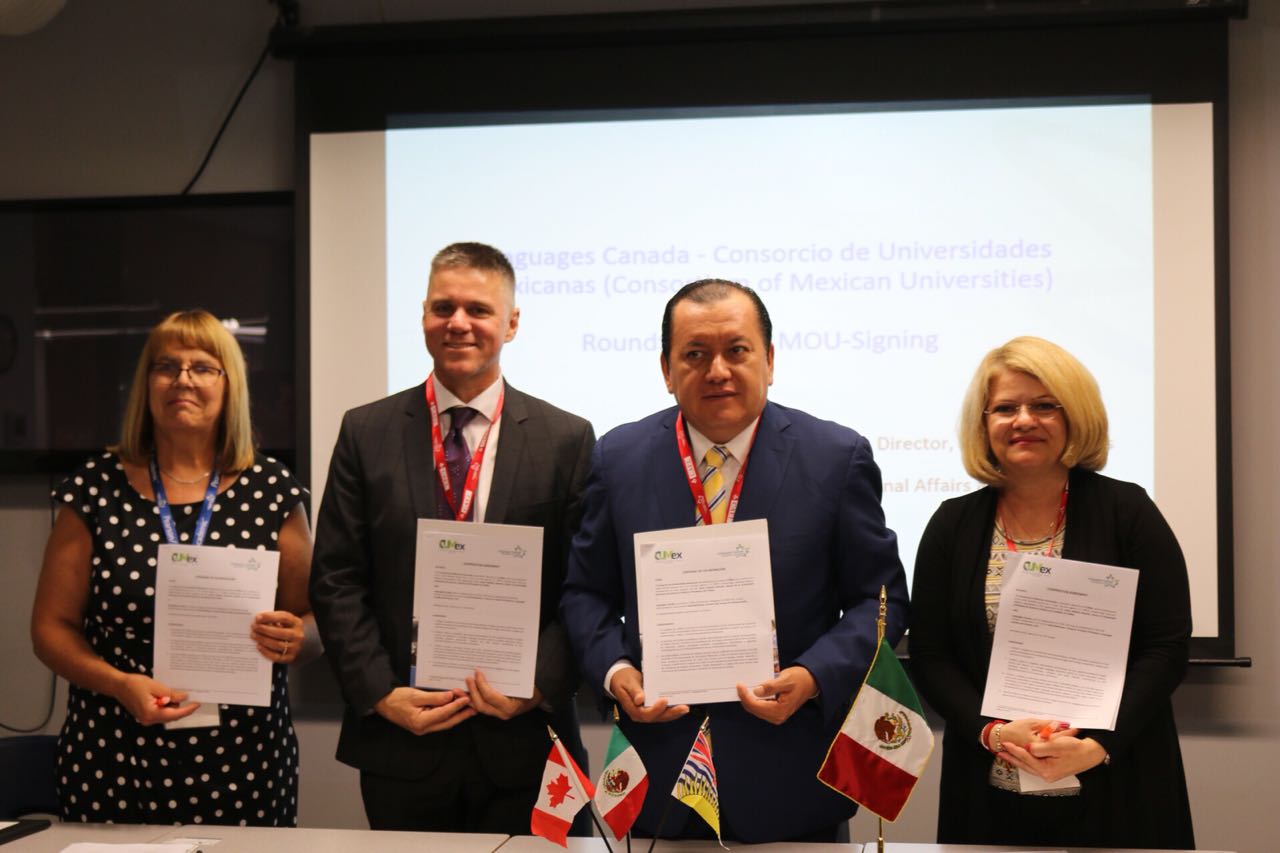 The signing took place at ILSC in Vancouver, followed by a roundtable with several BC Languages Canada members.
"Mexican students are increasingly choosing Canada as a destination to learn English and French, and Mexican government and academic institutions continue to build strong partnership ties with Canadian counterparts," says David Matthews, Director of ILSC Vancouver and member of the Board of Directors of Languages Canada, who signed the agreement on behalf of the association. "Mexico is now the 5th largest sending country for language students in Canada. In 2017, Languages Canada member programs across Canada hosted 12,780 Mexican students. The number of Mexican students in LC member programs has grown by 40% in the last year and has doubled in the last five years."
The MOU opens doors for the members of Languages Canada and CUMex to collaborate on the development of educational programs and initiatives that augment the English and French language proficiency of teachers, students and staff of the university members of CUMex; build the capacity of CUMex member institutions to deliver English and French language education; and support our common objectives for the internationalization of our education systems.
"The challenges that globalization implies require professionals to master other competences such as a foreign language different from their language of origin," explains Dr. Javier Saldaña Almazán, President of CUMex and Rector of the Autonomous University of Guerrero. "The universities of CUMex have fully understood this and with the signing of this MOU with Languages Canada, we will be able to create the tools to help our students, teachers, faculty and staff reach that goal."
The event was attended by the Consul General of Mexico in Vancouver and representatives from the British Columbia Council for International Education – a testament to the importance of Mexico, and language education, for the province's international education sector. In 2017, over 51,000 students enrolled in BC Languages Canada member programs - 1/3rd of all students in LC member programs in Canada.
"The learning and understanding of English also will help us to build bridges among the region rather that walls," adds Dr. Saldaña Almazán. "It has become the perfect element to closer ties between our countries."
About Languages Canada
Languages Canada/Langues Canada is a non-profit association representing more than 210 private and public members that offer accredited English and French language education programs. As Canada's national organization representing language education, Languages Canada is committed to promoting growth and innovation in Canada's English and French language programs.
Contact:
Rachel Lindsey
613-794-7224
rlindsey@languagescanada.ca